Slogan is always considered as the message accompanying the company's logo, there is a highlight of branding in the customer mind.
The current slogan of the Kanetora Vietnam - "Devotion - Vision – Success" has successfully completed the mission when transmit the company's message throughout the time.
Along with the growing and sustainable development of the company in the new era, with new targets; as well as to promote the creative ideas of all staff members, find the slogan for the company's brand. Kanetora Vietnam JSC has cooperated with Bach Dang JSC to organize a slogan contest for Kanetora Bach Dang.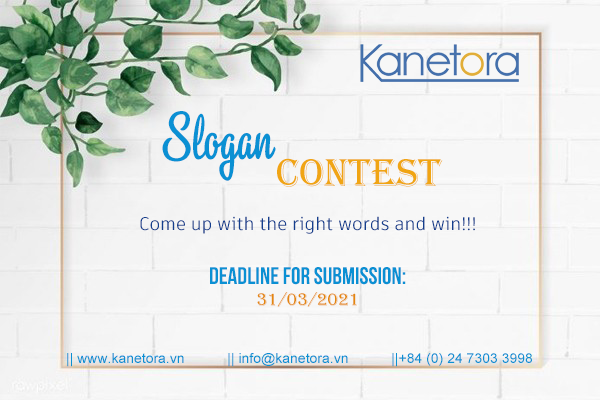 1. Judging Criteria
Compose a slogan for the company, accompanied by a presentation of ideas.

Slogan highly innovative, brief and concise, easy to understand, easy to recognize.

Short, impressive, meaningful, easy to remember

,

Demonstrating the mission, vision, and core values of the Company,

The submitted slogan must be created by the contestant, not yet published and used in any form, not a copy or duplicated version of any other slogan. Both logo and slogan must not contain copyrighted material. They should be created and edited by the contestant.

The maximum number of words on a slogan is 8 words, local words and slang words must not be used,

A slogan must not violate Vietnamese fine traditions and customs,

Contest products have never entered any similar contests.
2. Participants
All employees of the Company
3. Deployment time
Receiving entries from March 12, 2021 to March 31, 2021
Results announcement and awarding (exected): April 12, 2021
4. How to submit an exam: Send via email address hr@kanetora.vn
5. Awards
01 special prize: 3.000.000 VND and Award Certificate.

Top 5 finalists: 500,000 VND

and Award Certificate.
Come up with the right words and win!!!